V-TRUST
Blood glucose andβ-ketone monitoring system all in one
Immediate, reliable, easy to use among the very few glucose meters that also allow the measurement of β-ketones: increasingly chosen by doctors
V-TRUST is:
– Reliable and accurate for monitoring glucose and β-ketones in whole blood. One of the few measuring devices for both parameters
– Safe from contamination due to the strip ejector integrated in the device
– Smart thanks to the integrated Bluetooth connection, for sharing data with medical and health personnel, via the free TD-Check app for blood glucose diaries
GLUCOSE MEASUREMENT FEATURES
– Unit of measurement: mg/dL
– Measuring range: 20 to 600 mg/dL
– Blood volume sample: 0.5 μL
– Measurement time: 5 seconds
– Automatic coding for glucose
β-KETONE MEASUREMENT FEATURES
– Unit of measurement: mmol/L
– Measuring range: 0.1 to 8 mmol/L
– Blood volume sample: 1 μL
– Measurement time: 10 seconds
– Chip insertion for calibration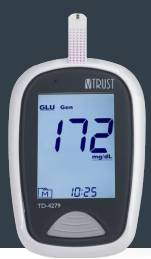 Key features
XL Strips
Wider V-TRUST test strips for improved handling and ease of use
Strip ejector
to prevent contamination from contact with used strips
Display
Large back-lit LCD screen
4 settable alarms
plus visual signal for ketone alert when blood glucose is ≥ 240 mg/dL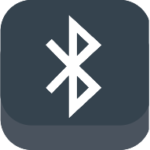 Built-in Bluetooth connection
for data sharing and connection to the free TD-Check app
Reading time
5 seconds for glucose and 10 seconds for β-ketones
Sample
: It's possible to test venous, arterial and capillary blood through the action of the enzyme GDH-FAD
Memories
1,000 results (including date and time). Pre- and post-prandial marker and storage of related results

FEATURES
- Connection of the app with a platform that stores personal data and blood glucose trends, which can be shared between doctor and patient
- Glycaemic Diary
- Easy to read charts can be filterable by period or target range
- 7 target intervals (pre and post breakfast, pre and post lunch, pre and post dinner, and night) can be created and customized for the time of day
- Bolus calculation: by entering the insulin sensitivity and the carbohydrate/insulin ratio, you can calculate the bolus automatically
- Corrections of bolus calculation: bolus calculation can take into account the occurrence of specific conditions (3 levels of exercise, stress, illness, pre-menstrual period)
- Customizable hypo and hyperglycaemia alert system
FREE TD-CHECK APP FOR BLOOD GLUCOSE MONITORING
http://www.tdcheck.it/
It is a highly effective tool for diabetes management because it provides an overview of the measurement results.
EASY TO USE
It automatically synchronizes with your V-TRUST meter generating a detailed electronic diary of your results.
EASY TO UNDERSTAND
The Diary feature helps you identify specific trends in your blood glucose results.
EASY TO SHARE
Doctors can access a platform where they can view the blood glucose diaries of all their patients.